by Shawn Bariana
June 17, 2021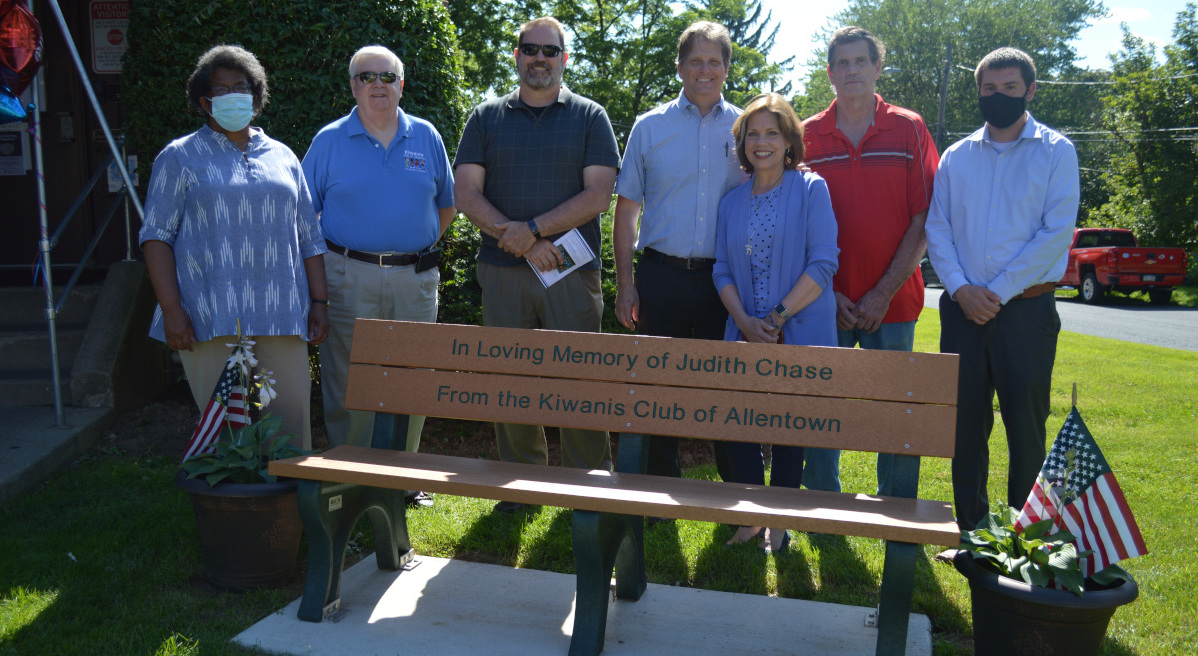 Families enrolled at Lehigh Valley Children's Centers (LVCC) at South Mountain have a lovely place to rest while waiting to pick up their children thanks to the Kiwanis Club of Allentown. Kiwanis members formally presented the Judith H. Chase Memorial Bench at an outdoor dedication ceremony held at LVCC's full-service site at 2002 South Albert Street in Allentown.
This gift honors the legacy of the late Judith H. Chase, LVCC's founder and first executive director. Chase dedicated her life to making high quality early education and child care accessible to thousands of families in the Lehigh Valley, regardless of income. She founded the Easton Head Start Program in 1965, founded Lehigh Valley Child Care in 1970, and co-founded the Pennsylvania Child Care Association in 1972. She initiated Pennsylvania' s first center for infant care in 1971 and Pennsylvania's first child care program inside a high school to provide care for the children of teen parents in 1981.
Kiwanis is dedicated to serving the needs of children in our community. As an active member of the Kiwanis Club of Allentown, Chase cemented a strong friendship between our two organizations.
Guests from throughout the community attended the dedication. State legislators, Kiwanis members, former staff and friends came to pay tribute to LVCC's beloved founder.
LVCC's President & CEO Charles Dinofrio, welcomed everyone. During the ceremony, retired VP of Development Debra Lamb spoke about the legacy of Judith Chase. Tom Harp, vice-president of Kiwanis Club of Allentown, gave remarks about the many different ways that LVCC and Kiwanis have partnered throughout the years. Chase's son, Peter, spoke on behalf of the Chase family. Karen Moser, center director of LVCC at South Mountain gave the closing remarks, which included her fond memories of working for Chase.
We appreciate the work of Kiwanis and look forward to continuing our lasting friendship!