October 11, 2017
By Shawn Deiter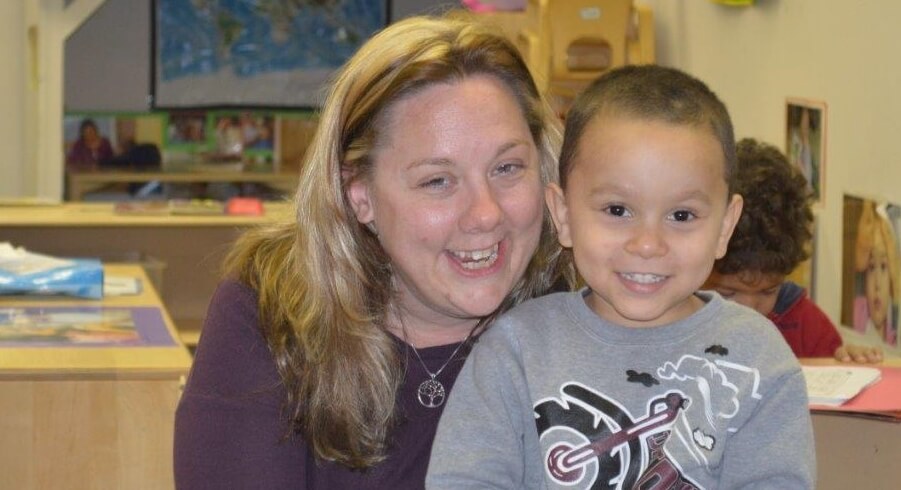 Easton families may recognize this familiar face. After nearly twenty years of working at Lehigh Valley Children's Centers, Dawn Gigliotti received a promotion to center director of LVCC at Monocacy Manor in Bethlehem.
Dawn knew early on that she wanted to work with children. After graduation from high school and the Career Institute of Technology in Easton, she began her career in child care. She soon found herself at College Hill and Stones Crossing, both former Easton locations of Lehigh Valley Children's Centers. Nearly twenty years ago, Dawn took advantage of the T.E.A.C.H. (Teacher Education And Compensation Helps) Early Childhood® PENNSYLVANIA Scholarship Program. The scholarship allowed her to continue her education and earn an associate's degree in early childhood education, all while working full-time.
She finds every age of childhood interesting to teach. Children reach milestones at their own unique pace, which has helped Dawn realize that not everything is in black and white; not every child learns the same way as the next. Sometimes she has to "think outside of the box" to help an individual child succeed.
Dawn took a moment to recognize her staff from LVCC at Monocacy Manor. She is proud of how well they work together as a team and maintain a pleasant environment for the children to actively learn, a key factor in the center's success.
"The children are always laughing, always smiling," Dawn said.
She enjoys working at LVCC at Monocacy Manor, surrounded by over 50 acres of natural beauty. The center is located along the woods of Monocacy Creek and next to The Monocacy Farm Project, an organic community farm. Children attending the center love taking daily strolls with the staff to explore the grounds.
"The center feels tucked away from the rest of the city," Dawn said.