September 28, 2017
By Shawn Deiter

Aloha from the older toddler classroom at LVCC's Monocacy Manor site in Bethlehem, PA! Throughout the week, the two-year-olds were introduced to basic cultural traditions of Hawaii. They worked on Hawaiian-themed crafts and activities to build onto their developing skills. Families joined their children at the end of the week for a fun Hawaiian luau, complete with music from the islands.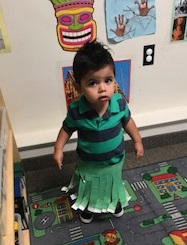 Hula—More than Exercise
Music and movement are essential to development and toddlers love to dance! Songs with actions are especially popular with young children, making the song "Pearly Shells" a big hit with these toddlers. Our little performers listened to the musical rhythm while watching Ms. Stephanie for visual cues.
"The children enjoyed performing the steps to the hula dance for their parents, which built confidence and strengthened motor skills," Head Teacher Stephanie Schneck said.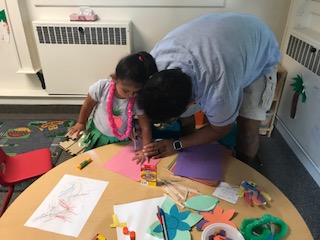 Exploration through Art
The toddlers delighted in exploring different art materials to create their Hawaiian crafts. Prior to the family event, the toddlers painted grass skirt costumes. One or two children discovered how to paint more on their arms than the actual costume (Ms. Stephanie has mastered cleaning off paint). During the luau, parents helped their children make colorful flower crafts and fish puppet sticks. The fish puppets were especially fun to keep busy little fingers active.